DFK Paris at the 110th CAA Annual Conference in Chicago – CANCELLED
Follow our team of researchers
DFK Paris at the 110th CAA Annual Conference in Chicago – CANCELLED
Update January 10, 2022 ​​​​​
As announced by the CAA Executive Director, CAA leadership has made the difficult decision to cancel the in-person part of the annual conference scheduled for February 16-19, 2022, and to convert it to a completely virtual format, including the Book and Trade Fair. The DFK Paris will therefore, to its great regret, not be part of the CAA 2022, but invites all interested art historians to attend the online program.
Announcement November 2021
In February 2022, the DFK Paris will exhibit its publications and research programs at the Book and Trade Fair of the College Art Association (CAA) Annual Conference, which will be held in Chicago this year.
The 2022 Annual Conference program offers content critical to our time on climate change, pandemic responses and pedagogy, and social justice issues. CAA will celebrate and promote the 50th anniversary of the feminist art movement, offering a selection of sessions and programs on women in the arts.
Connect with publishers to promote your book project, find the latest publications, source information on upcoming publishing trends.
Explore digital resources for visual arts higher education and converse with the experts who develop virtual education tools and practices.
Obtain information from advance study programs.
Experience why global art suppliers, publishers, universities and colleges, foundations, magazines and journals, digital-image resources, and other businesses make CAA's Annual Conference a must on their calendars.
The conference opens on February 16, with 140 in-person live sessions held at the Chicago Hilton from February 17-19, and 60 virtual live sessions to be held in Zoom from March 3-5. Please note that in-person sessions in Chicago will not be remotely accessible. The Book and Trade Fair will have both in-person and virtual components.  
Thomas Kirchner, director of the DFK Paris, and Sira Luthardt, editorial assistant of DFK's French publications department, look forward to meeting you at booth 419 in the Exhibit Hall of the Chicago Hilton.
Person in charge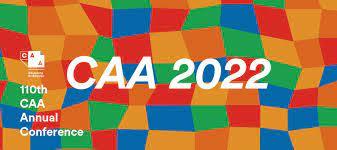 Begin
16.02.2022
09:00 Uhr
End
19.02.2022
18:00 Uhr
Language of the Event
Location
Hilton Chicago 720 South Michigan Avenue Chicago (IL) 60605
Room, floor
Exhibit Hall, Salon A, Booth 419
Link to the Event
Website
Upcoming Events