Vita
Sara Martinetti is a researcher in the history, anthropology, and theory of art. Her thesis, directed by Béatrice Fraenkel and submitted in 2020 at the École des hautes études en sciences sociales (EHESS), was entitled "'I never write, I just do': Written Practices and Theoretical Issues in the Work of Seth Siegelaub in Conceptual Art, Activism, and Erudition." She has curated several related exhibitions, catalogues, and anthologies, including The Stuff That Matters: Textiles Collected by Seth Siegelaub for the CSROT (Raven Row, London, 2012), Seth Siegelaub: Beyond Conceptual Art (Stedelijk Museum Amsterdam, 2015–16; cat. Walther König, 2015), and Seth Siegelaub: "Better Read Than Dead," Writings and Interviews, 1964–2013 (cat. Walther König, 2020). Following the same methodology, she has been working since 2014 with Michel Claura, a lawyer who was active as an art critic and exhibition organizer between 1967 and 1982. Their collaboration has led to the publication of two research reports in print and digital format, Michel Claura: Code vestimentaire. Les fruits déguisés ne seront pas acceptés. De quelques insertions dans un moment de l'art peu vêtu and Three acts of writing by Michel Claura between 1973 and 1982, made possible by a grant from the Centre national des arts plastiques (Cnap) in 2017 and from the Friends of the Centre Pompidou as part of their Mission Recherche program in 2020, respectively. In parallel with this research, she has been busy expanding her theoretical and practical expertise in textiles.
In 2021-2022, she is a fellow in the Annual Subject at DFK Paris.
Research focus
The writing practices of Daniel Buren, Michel Claura, and others on the Parisian art scene of the 1970s
In 1968 Daniel Buren started his series of Affichages sauvages (Wild Posterings), of which Michel Claura wrote in an article published in 1970 in Studio International: "There were thus a basic visibility, to which every passer-by was a witness, and a specific visibility of which those who came specifically to see in response to the announcement were spectators." In the 1970s, both the artist and the critic played an active part in an informal network that congregated in alternative Parisian venues such as Galerie 1-36 or Vitrine pour l'art contemporain, which attracted figures from different backgrounds whose work and influence largely remain to be charted. The Polish photographer Eustache Kossakowski (1925-2001) has produced an exceptional documentation of this milieu and created several photographic series, such as Six mètres avant Paris (Six Meters before Paris) and Les Palissades, which take the contemporary viewer into the streets of the capital in those years.
Based on this collection of works, writings, ideas, places, situations, and people, I will use an anthropological approach to research the relationships between so-called Conceptual Art and street art. Both practices share the urban terrain as a space for art outside the traditional gallery, a preference for onsite work, and a political stance that fed into their critique of institutions and writing practices. Secondly, my work will focus on developing a research tool for Claura's writings in order to highlight the theoretical concerns he shared with the people with whom he collaborated in this context.
Contact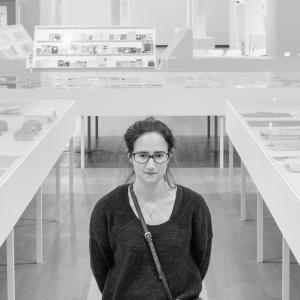 Dr. Sara Martinetti